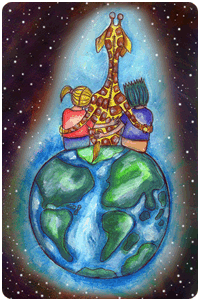 Did You Enjoy Giraffe Juice? Curious About What Others Are Saying?
From JP Allen
REQUEST:
If you read Giraffe Juice, and it met any "rainbow colored" needs for you, please tell me about it in the section below.
Why? I wanna feel the Juice! It took me and my co-author Marci seven years to develop and launch this project. We want to know that our intention to make life wonderful was fulfilled.
Also, I'd love your support. Because the mission of the Giraffe Juice Project is to share Nonviolent Communication with a million people globally by Jan 1st, 2012, when you add you comments below it may encourage others to check it out too.
I'd love to hear anything you want to share. (If you prefer to post an article somewhere on the web, tell me where and I'd love to link to it).